For many investors, daily noise in the market doesn't mean much. Their investment objective is to build a portfolio strong enough to produce a steady stream of income during their retirement.
This is a journey which spans many decades, requires investing with discipline, plus, of course, picking some quality income-generating stocks. As years tick-by and you continue to stick with your strategy, you'll realize how quickly you're moving closer to your goal of achieving financial freedom in your golden years.



With this theme in mind, here's one of the best dividend-growth stocks currently available. It hits all the characteristics necessary to make it an ideal asset for long-term income investors.
The Coca-Cola Company
The companies that generally fit into an income-producing portfolio are the ones which have dominant positions in their fields, a strong brand and massive scale which is hard for competitors to reach. Looking at Atlanta-based Coca-Cola (NYSE:KO) from this perspective, it's exactly the type of business which ticks all these boxes.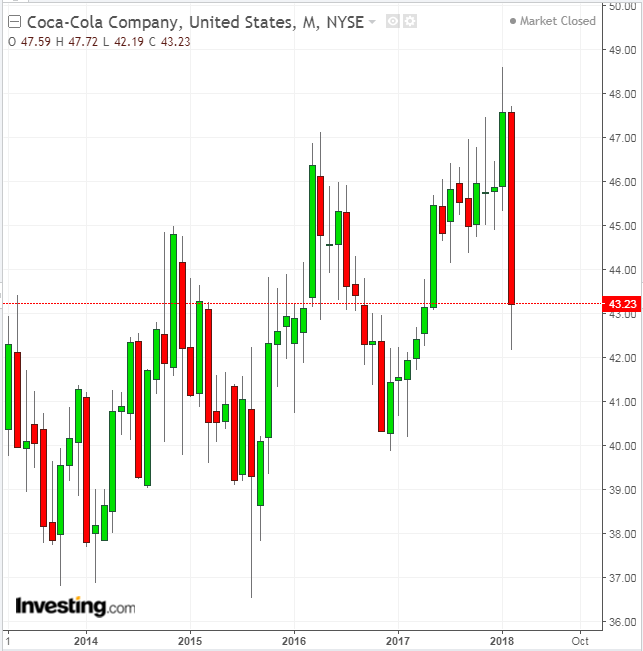 The world's largest beverage company owns or licenses more than 500 non-alcoholic soft drinks, including both sparkling and still beverages. It sells its products in more than 200 countries, and has 21 individual brands that generate $1 billion or more in annual sales.
The core sparkling beverage portfolio includes the flagship Coca-Cola brand, as well as other globally recognized soda brands such as Diet Coke, Sprite, Fanta, and more. Coca-Cola also has a large portfolio of still beverages, including Dasani, Minute Maid, Vitamin Water, and Honest Tea.
The company enjoys top market share positions across a number of its core product categories. With this massive global scale, the most important thing for dividend investors is to see whether this soft-drink giant is a reliable dividend payer and thus worth adding to their income-producing portfolio.
Coca-Cola is a "Dividend King", meaning it belongs to a small, elite group of blue-chip companies, which have hiked their dividends for at least 50 consecutive years. History, of course, doesn't provide a guarantee for future performance, but it can certainly tell us a lot about the business and its strengths. Nevertheless, given that Coca-Cola has been able to increase its dividend for 55 years in a row, that's more than enough proof of the strength of the brand and the company's ability to perform across a variety of economic and cultural events—recessions, downturns and changing consumer preferences.
Business Transformation
Without doubt, the ongoing consumer trend to cut consumption of sugary drinks has caused some headwinds for Coca-Cola, but the company is changing its business model fast. Currently, 19 of Coca-Cola's 22 billion-dollar brands offer consumers reduced-, low-, or zero-calorie options. In its most recent earnings report, Coca-Cola showed it has started to reap the benefits of its business transformation.



In February, the company reported sales and profit for the fourth-quarter that beat analysts' estimates, helped by its growing beverage portfolio of healthy drinks and reformulations. The key part of this business transformation includes becoming a marketing and drink-formulation company, introducing new product lines and slimming down the costs.
In recent years, Coke has invested in many new ventures, including Honest Tea, Fairlife Dairy and Suja Life LLC, which makes high-pressure processed juices, kombucha and drinking vinegars. Coca-Cola is expanding this model globally and has already started looking for investment candidates in Central and Eastern Europe, according to company statements.
The bottom line: Dividend-growth stocks with a track record of rewarding their investors are your best friends in retirement. Dividend stocks help grow your portfolio and protect your income from rising inflation. Coca-Cola has paid a quarterly dividend since 1920 and has increased dividends in each of the last 55 years. In the latest-quarter, Coca-Cola boosted its annual dividend by 5.5% to $1.56 a share from $1.48 a share in 2017. Trading at $43.22 as of yesterday's close, and with an annual dividend yield of 3.54%, KO shares should be on the top of your buying list as you build your retirement portfolio.